Tavares: America's Seaplane City
This story was originally posted by the Orlando Economic Development Commission and has been reposted here with their permission.
A team of Orlando ambassadors ("Obassadors") met in the City of Tavares to discover the rich history and exciting activities of this historic town in Lake County. Hosted by Lake County Economic Development & Tourism department and the City of Tavares, the team of Obassadors discovered many hidden gems in Tavares – America's Seaplane City.
The Obassadors started off the day at the City of Tavares' Pavilion on the Lake, a striking, 3-story wedding and event venue looking out over Lake Dora. Guests can watch seaplanes land and take off right outside its tall glass windows, as well as on the rooftop and its many balconies. The City of Tavares' Pavilion on the Lake is the only building built over water in Florida in the last 50 years.
The City of Tavares has a rich history of establishing passenger flights as a means of public transportation. John Drury, Tavares City Manager, enlightened the group with little-known facts about Tavares, including:
Only four years after the seaplane was invented in France, a seaplane took off from Lake Eustis in the City of Tavares.
After a flight in a Tavares seaplane in 1914, Clara Adams ("The Maiden of Maiden Voyages") predicted that the future of passenger transportation would be accomplished by airplanes.
Famous pilots and passengers of Tavares seaplanes include the Wright Brothers, Clara Adams, and Amelia Earhart.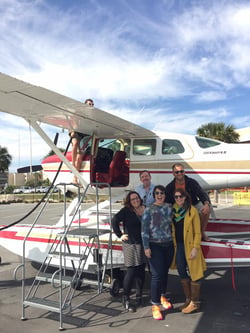 The Obassadors took to the skies on the Jones Brothers & Co. seaplanes, experiencing a breath-taking view of Mount Dora, Howey-in-the-Hills, Astatula, the lake canal system between the Lakes Eustis, Dora, and Harris, as well as a distant glimpse of downtown Orlando and the attractions.
After the seaplane rides, the group walked down the City of Tavares main street and explored the quaint, historic downtown.
"Lake County is proud to represent everything that is great about the other half of Orlando. It was a pleasure to host the Obassadors, and we can't thank them enough for their efforts to highlight some of the many reasons why we call ourselves 'Real Florida. Real Close.'" said Robert Chandler, Lake County Economic Growth Director.